James T. English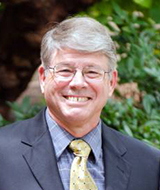 Emeritus Professor
Division of Plant Science and Technology
E-mail: englishj at missouri dot edu
Office address: 52 Agriculture Lab
Office phone: 573-882-3001

Plant pathogenic fungi and oomycetes develop through a series of life stages from dormant propagules to infective germlings in the course of parasitizing a plant. The transition from one life stage to the next depends on the reception of environmental signals, particularly those generated by host plants. The longterm goal of our research program is to identify and manipulate petpides that disrupt life stage progression that depends on such signals.
We use a combinatorial, phage-display approach to identify and characterize peptides that interfere with development of two organisms, the oomycete root pathogen, Phytophthora, and the soybean rust fungal pathogen, Phakopsora pachyrhizi. We have suggested that there exist cell surface receptors whose targeting will inhibit subsequent developmental (i.e., infectious) processes, and that phage display will identify ligands that target these receptors. Our rationale for these studies is that peptides targeting these receptors (defined broadly as any ligand binding molecule) will provide a molecular genetic, environmentally benign, method of disease control.
Among other projects, we are creating scaffolds for display and delivery of plant peptides to susceptible tissues. Scaffolds are designed my modifying naturally occurring plant proteins for proper display and expression.

Member, ARS National Strategic Planning group for Asian Soybean Rust, 2004
Fellow, ESCOP Leadership Training Program, Phases I, II, and III, 2000-2001
(2000-Present)
Smehilova M, Galuszka P, Bilyeu KD, Jaworek P, Kowalska M, Sebela M, Sedlaova M, English JT and Frebort I. Subcellular localization and biochemical comparison of cytosolic and secreted cytokinin dehydrogenase enzymes from maize. Journal of Experimental Botany 2009;60(9):2701-2712.
Fang ZD, Laskey JG, Huang S, Bilyeu KD, Morris RO, Schmidt FJ and English JT. Combinatorially selected defense peptides protect plant roots from pathogen infection. Proceedings of the National Academy of Sciences of the United States of America 2006;103(49):18444-18449.
Galuszka P, Frebortova J, Luhova L, Bilyeu KD, English JT and Frebort I. Tissue localization of cytokinin dehydrogenase in maize: Possible involvement of quinone species generated from plant phenolics by other enzymatic systems in the catalytic reaction. Plant and Cell Physiology 2005;46(5):716-728.
Frebortova J, Fraaije MW, Galuszka P, Sebela M, Peç P, Hrbaç J, Novak O, Bilyeu KD, English JT and Frebort I. Catalytic reaction of cytokinin dehydrogenase: Preference for quinones as electron acceptors. Biochemical Journal 2004;380(1):121-130.
Emery KM, Beuselinck PR and English JT. Genetic diversity and virulence of Rhizoctonia species associated with plantings of Lotus corniculatus. Mycological Research 2003;107(2):183-189.
Bishop-Hurley SL, Mounter SA, Laskey J, Morris RO, Elder J, Roop P, Rouse C, Schmidt FJ and English JT. Phage-displayed peptides as developmental agonists for Phytophthora capsici zoospores. Applied and Environmental Microbiology 2002;68(7):3315-3320.
English JT and Beuselinck PR. Methods for evaluating birdsfoot trefoil for susceptibility to foliar and shoot blight caused by Rhizoctonia spp. Crop Science 2000;40(3):841-843.