Toni Kazic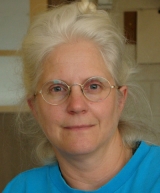 Associate Professor
Electrical Engineering and Computer Science Department
E-mail: kazict at missouri dot edu
Office address: 143A Engineering Building West
Office phone: 573-882-1946

Wiese-Fales J. (Dec 2008). Research with corn phenotypes used to model data network. Mizzou Engineer Magazine
Shyu C-R, Harnsomburana J, Green J, Barb AS, Kazic T, Schaeffer M, Coe E. 2007. Searching and mining visually observed phenotypes of maize mutants. Journal of Bioinformatics and Computational Biology 5(6):1193-1213.
Shyu C-R, Green JM, Lun DPK, Kazic T, Schaeffer M, Coe E. 2007. Image analysis for mapping immeasurable phenotypes in Maize. IEEE Signal Processing Magazine 24(3):116-119.
Kazic T. 2006. Putting semantics into the semantic web: how well can it capture biology? Pacific Symposium on Biocomputing:140-151.
Shapshak P, Duncan R, Nath A, Turchan J, Kangueane P, Rodriguez H, Duran EM, Ziegler F, Amaro E, Lewis A, Rodriguez A, Minagar A, Davis W, Seth R, Elkomy FF, Chiappelli F, Kazic T. 2006. Gene chromosomal organization and expression in cultured human neurons exposed to cocaine and HIV-1 proteins gp120 and tat: Drug abuse and NeuroAIDS. Frontiers in Bioscience 11(2 P.1591-2006):774-1793.
Minagar A, Shapshak P, Duran EM, Kablinger AS, Alexander JS, Kelley RE, Seth R, Kazic T. 2004. HIV-associated dementia, Alzheimer's disease, multiple sclerosis, and schizophrenia: Gene expression review. Journal of the Neurological Sciences 224(1-2):3-17.
Kazic T, Coe E, Polacco M, Shyu C-R. 2003. Whither biological database research? OMICS A Journal of Integrative Biology 7(1):61-65.
Kazic T. 2000. Semiotes: A semantics for sharing. Bioinformatics 16(12):129-1144.