Scott C. Peck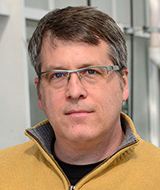 Professor
Department of Biochemisty
E-mail: pecks at missouri dot edu
Office address: 271h Bond Life Sciences Center
Office phone: 573-882-8102
Lab phone: 573-882-7431

The perception of and response to microbial signal molecules is a vital strategy evolved by plants to survive attacks by potential pathogens. Substantial evidence exists for the requirement of phosphorylation to initiate a range of defense-related responses. The identity of the phosphorylated proteins and their role in defense, however, remains largely unknown. To uncover new subsets of signaling candidates, my laboratory has developed complementary proteomic approaches to identify proteins undergoing phosphorylation in Arabidopsis cells within minutes after the application of microbial elicitors. This program has revealed more than 40 novel components associated with defense responses. We have also used reverse genetics to demonstrate that at least some of these phosphoproteins play important roles in resistance to microbes. Our next goal is to complete the pathways linking elicitor perception to the phosphorylation of these signaling components.
These initial studies on protein phosphorylation lead us to investigate the role of protein secretion in defense. We discovered a syntaxin, AtSYP132, that is essential for multiple forms of resistance to bacteria; and this syntaxin appears to be required for the secretion of antimicrobial proteins and/or compounds. A more in-depth proteomic analysis of proteins secreted during interactions between Arabidopsis and different genotypes of bacterial pathogens has revealed a complex, extracellular interaction. We are now investigating the molecular basis of these changes in protein secretion.
Serna-Sanz A, Parniske M, Peck SC. Phosphoproteome analysis of Lotus japonicus roots reveals shared and distinct components of symbiosis and defense. Molecular Plant-Microbe Interactions 2011;24(8):932-937.
Anderson JC, Bartels S, Besteiro MAG, Shahollari B, Ulm R, Peck SC. Arabidopsis MAP Kinase Phosphatase 1 (AtMKP1) negatively regulates MPK6-mediated PAMP responses and resistance against bacteria. Plant Journal 2011;67(2):258-268.
Zhang ZJ, Peck SC. Simplified enrichment of plasma membrane proteins for proteomic analyses in Arabidopsis thaliana. Proteomics 2011;11(9):1780-1788.
Nicholls S, MacCallum DM, Kaffarnik FAR, Selway L, Peck SC and Brown AJP. Activation of the heat shock transcription factor Hsf1 is essential for the full virulence of the fungal pathogen Candida albicans. Fungal Genetics and Biology 2011;48(3):297-305.
Lenardon MD, Milne SA, Mora-Montes HM, Kaffarnik FAR, Peck SC, Brown AJP, Munro CA and Gow NAR. Phosphorylation regulates polarisation of chitin synthesis in Candida albicans. Journal of Cell Science 2010;123(13):2199-2206.
Kaffamik FAR, Jones AME, Rathjen JP and Peck SC. Effector proteins of the bacterial pathogen Pseudomonas syringae alter the extracellular proteome of the host plant, Arabidopsis thaliana. Molecular and Cellular Proteomics 2009;8(1):145-156.
Jones AME, MacLean D, Studholme DJ, Serna-Sanz A, Andreasson E, Rathjen JP and Peck SC. Phosphoproteomic analysis of nuclei-enriched fractions from Arabidopsis thaliana. Journal of Proteomics 2009;72(3):439-451.
Bartels S, Anderson JC, Gonzalez Besteiro MA, Carreri A, Hirt H, Buchala A, Metraux JP, Peck SC and Ulm R. MAP kinase phosphatase1 and protein tyrosine phosphatase1 are repressors of salicylic acid synthesis and SNC1 -mediated responses in Arabidopsis. Plant Cell 2009;21(9):2884-2897.
Whiteman SA, Serazetdinova L, Jones AME, Sanders D, Rathjen J, Peck SC and Maathuis FJM. Identification of novel proteins and phosphorylation sites in a tonoplast enriched membrane fraction of Arabidopsis thaliana. Proteomics 2008;8(17):3536-3547.
Shan L, He P, Li J, Heese A, Peck SC, Nurnberger T, Martin GB and Sheen J. Bacterial effectors target the common signaling partner BAK1 to disrupt multiple MAMP receptor-signaling complexes and impede plant immunity. Cell Host and Microbe 2008;4(1):17-27.
Merkouropoulos G, Andreasson E, Hess D, Boller T and Peck SC. An Arabidopsis protein phosphorylated in response to microbial elicitation, AtPHOS32, is a substrate of MAP kinases 3 and 6. Journal of Biological Chemistry 2008;283(16):10493-10499.
Anderson JC and Peck SC. A simple and rapid technique for detecting protein phosphorylation using one-dimensional isoelectric focusing gels and immunoblot analysis. Plant Journal 2008;55(5):881-885.
Thelen JJ and Peck SC. Quantitative proteomics in plants: Choices in abundance. Plant Cell 2007;19(11):3339-3346.
Serna-Sanz A, Rairdan G and Peck SC. Preparative denaturing isoelectric focusing for enhancing sensitivity of proteomic studies. Methods in Molecular Biology (Clifton, N.J.) 2007;354(99-104.
Nuhse TS, Bottrill AR, Jones AME and Peck SC. Quantitative phosphoproteomic analysis of plasma membrane proteins reveals regulatory mechanisms of plant innate immune responses. Plant Journal 2007;51(5):931-940.
Maor R, Jones A, Nuhse TS, Studholme DJ, Peck SC and Shirasu K. Multidimensional protein identification technology (Mud(PIT) analysis of ubiquitinated proteins in plants. Molecular and Cellular Proteomics 2007;6(4):601-610.
Kalde M, Nuhse TS, Findlay K and Peck SC. The syntaxin SYP132 contributes to plant resistance against bacteria and secretion of pathogenesis-related protein 1. Proceedings of the National Academy of Sciences of the United States of America 2007;104(28):11850-11855.
Heese A, Hann DR, Gimenez-Ibanez S, Jones AME, He K, Li J, Schroeder JI, Peck SC and Rathjen JP. The receptor-like kinase SERK3/BAK1 is a central regulator of innate immunity in plants. Proceedings of the National Academy of Sciences of the United States of America 2007;104(29):12217-12222.
Peck SC. Analysis of protein phosphorylation: Methods and strategies for studying kinases and substrates. Plant Journal 2006;45(4):512-522.
Peck SC. Phosphoproteomics in Arabidopsis: Moving from empirical to predictive science. Journal of Experimental Botany 2006;57(7):1523-1527.
Nuhse TS and Peck SC. Peptide-based phosphoproteomics with immobilized metal ion chromatography. Methods in Molecular Biology (Clifton, N.J.) 2006;323(431-436.
Meszaros T, Helfer A, Hatzimasoura E, Magyar Z, Serazetdinova L, Rios G, Bardoczy V, Teige M, Koncz C, Peck S and Bogre L. The Arabidopsis MAP kinase kinase MKK1 participates in defence responses to the bacterial elicitor flagellin. Plant Journal 2006;48(4):485-498.
Ichimura K, Casais C, Peck SC, Shinozaki K and Shirasu K. MEKK1 is required for MPK4 activation and regulates tissue-specific and temperature-dependent cell death in Arabidopsis. Journal of Biological Chemistry 2006;281(48):36969-36976.
Elortza F, Mohammed S, Bunkenborg J, Foster LJ, Nuhse TS, Brodbeck U, Peck SC and Jensen ON. Modification-specific proteomics of plasma membrane proteins: Identification and characterization of glycosylphosphatidylinositol-anchored proteins released upon phospholipase D treatment. Journal of Proteome Research 2006;5(4):935-943.
Peck SC. Update on proteomics in Arabidopsis. Where do we go from here? Plant Physiology 2005;138(2):591-599.
Van Der Hoorn RAL, Leeuwenburgh MA, Bogyo M, Joosten MHAJ and Peck SC. Activity profiling of papain-like cysteine proteases in plants. Plant Physiology 2004;135(3):1170-1178.
Rentel MC, Lecourieux D, Ouaked F, Usher SL, Petersen L, Okamoto H, Knight H, Peck SC, Grierson CS, Hirt H and Knight MR. OXI1 kinase is necessary for oxidative burst-mediated signalling in Arabidopsis. Nature 2004;427(6977):858-861.
Nuhse TS, Stensballe A, Jensen ON and Peck SC. Phosphoproteomics of the arabidopsis plasma membrane and a new phosphorylation site database W inside box sign. Plant Cell 2004;16(9):2394-2405.
Assaad FF, Qiu JL, Youngs H, Ehrhardt D, Zimmerli L, Kalde M, Wanner G, Peck SC, Edwards H, Ramonell K, Somerville CR and Thordal-Christensen H. The PEN1 syntaxin defines a novel cellular compartment upon fungal attack and is required for the timely assembly of papillae. Molecular Biology of the Cell 2004;15(11):5118-5129.
Peck SC. Early phosphorylation events in biotic stress. Current Opinion in Plant Biology 2003;6(4):334-338.
Nuhse TS, Stensballe A, Jensen ON and Peck SC. Large-scale analysis of in vivo phosphorylated membrane proteins by immobilized metal ion affinity chromatography and mass spectrometry. Molecular & Cellular Proteomics : MCP. 2003;2(11):1234-1243.
Nuhse TS, Boller T and Peck SC. A plasma membrane syntaxin is phosphorylated in response to the bacterial elicitor flagellin. Journal of Biological Chemistry 2003;278(46):45248-45254.
Elortza F, Nuhse TS, Foster LJ, Stensballe A, Peck SC and Jensen ON. Proteomic analysis of glycosylphosphatidylinositol-anchored membrane proteins. Molecular & Cellular Proteomics : MCP. 2003;2(12):1261-1270.
Ulm R, Ichimura K, Mizoguchi T, Peck SC, Zhu T, Wang X, Shinozaki K and Paszkowski J. Distinct regulation of salinity and genotoxic stress responses by Arabidopsis MAP kinase phosphatase 1. EMBO Journal 2002;21(23):6483-6493.
Peck SC, Nuhse TS, Hess D, Iglesias A, Meins F and Boller T. Directed proteomics identifies a plant-specific protein rapidly phosphorylated in response to bacterial and fungal elicitors. Plant Cell 2001;13(6):1467-1475.
Nuhse TS, Peck SC, Hirt H and Boller T. Microbial elicitors induce activation and dual phosphorylation of the Arabidopsis thaliana MAPK 6. Journal of Biological Chemistry 2000;275(11):7521-7526.

BMC Plant Techniques, Co-Editor
The Plant Cell, Co-Editor